Welcome!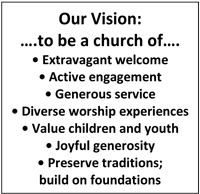 If you are new to this site or this church, we invite you to read about us on our "Welcome" page.
---
This space will be used to announce upcoming events, additions to the web site, and items of general interest to church members and friends. If you would like to add an announcement on this page, please send an email to webmaster@rhccucc.org.

Job Postings - RHCC is seeking applicants for two new positions. See the job postings for more information.

Music - Orchestra & Choir music recorded during worship on Dedication Sunday, April 28, 2013.

Hofstra Chamber Choir Concert - Audio and video recordings of the Hofstra Chamber Choir (worship service and concert), March 24, 2013

Budgets - Information on the 2013-14 Proposed Budgets – Local and Missions is available online. These budgets will be discussed and voted on at the Budget and Elections Meeting on Sunday, March 17, following the morning worship service.

Music - RHCC Dixieland Jazz Ensemble, recorded during worship on Sunday, February 17, 2013.

Photo gallery – Epiphany Pageant – January 6, 2013

December 15, 2012: We join our hearts with others in prayer for the community of Newtown, Connecticut.

Lessons & Carols Service: Recordings of musical selections from the December 9, 2012 Lessons and Carols service are now available for your listening enjoyment.

Toy Drive for Covenant-to-Care - This year our Project Toy Drive will be a little bit different.  We are teaming up with our Covenant-to-Care Social Worker to provide Christmas gifts to children in the Hartford area. The presents that we purchase will be the only presents that many of the children receive.  We have a list of 50 children to provide gifts for. Each child has one gift request.  The name, gender, age and request for the child will be printed on an ornament that can be taken off of a Giving tree that will be located in Chapin Hall. Please take the ornament, purchase the gift and bring the wrapped gift with the ornament attached to church on December 9th. We will bless the gifts and present them to our DCF social worker.  Please see Kari McCaw-Blaise (kariblaise@hotmail.com) for questions or if you want to purchase a present and the ornament tree is empty. 

Turkey and a Thirty - Foodshare has launched its Turkey and Thirty campaign and Rocky Hill Congregational Church UCC is going to lend a hand. This year Foodshare is asking for $30 donations in honor of their 30-year anniversary. We have signed up to collect FROZEN Turkeys and $30 donations, however monetary donations of any amount are welcome. We've set a team goal of 100 turkeys and $2100.
Look for the signup board in Chapin Hall and let us know you'll be participating, so we can be prepared to deliver the turkeys to Foodshare.
Bring your FROZEN turkey and monetary donation to the church anytime between 9:30 am and 12:30 pm on Sunday November 18th. (Checks should be made out to FOODSHARE.)
See Cindy Hunt or Kari McCaw-Blaise for more information or go to www.foodshare.org and look for our team "Rocky Hill Congregational Church, UCC".
Photo gallery – Work trip to Rupert Congregational Church, Rupert, VT – October 13-14, 2012

Photo gallery – Heritage Sunday – September 30, 2012

Church Pews Available – In early August, work will begin to remove some of the pews from the sanctuary—as part of our interest to improve the accessibility of the church for people in wheelchairs or with other mobility limitations. If you are interested in obtaining one or more of the pews, please let us know by Sunday, August 5. Pews will be available for a recommended minimum donation of $100 per pew. Serious inquiries only, please. And, you must have a way to remove the pew(s) promptly from the church in August. Submit your request to Bob Inderbitzen (rinderbitzen@cox.net) or Lynne Lataille (lynnelataille@sbcglobal.net)

Volunteers Needed for Youth Room Renovation - A congregation-wide vision includes renovating the downstairs Church Youth Room. This room is a favorite gathering place for our children and teenagers —where they build friendships, play games, meet in small groups, and more! Can you help us? Volunteers are needed to help: clear-out the old room, sand the old wall finishes, prep and paint, stencil, install new window treatments, feed the volunteers, clean...there is plenty to do! Please contact Bob Inderbitzen (rinderbitzen@cox.net), with your preference to volunteer during day(s), evening(s), or weekend(s). Enough volunteers are needed so we can finish the room before the end of August! How else can you help? Consider making a donation to the renovation, or donate a Home Depot gift card (you can order these through our Scrip fundraising program) to help offset the cost of paint and other renovation supplies.

Summary of Special Meeting – Church members attending the Special Meeting following worship last Sunday, June 10, voted in favor of recommendations to improve accessibility of the Sanctuary. The proposal passed 67 to 13 in favor of the recommendations which are intended to create a more accessible worship space for people who use wheelchairs and anyone requiring greater assistance with mobility. A period of discussion came before the vote - during which members were invited to speak about the recommendations. There were a variety of comments in favor and in opposition to the proposal, and some alternative suggestions were made. All of the conversation was guided by love for this church and faith community. A summary of the recommendations is available here. The Trustees will oversee the project which is expected to begin sometime during the summer.

Bob Inderbitzen, Moderator
June 13, 2012  

Summer Calendar – Worship & Event Schedule for Summer, 2012

Photo galleries – Workday at Peter's Retreat
and Foodshare Walk Against Hunger

Concert Recordings – Recordings from the Hofstra Chamber Choir concert on April 14, 2012 are now available.

Missions – Listing of 2012 activities has been updated.

Music Search – As most of you know, our Minister of Music, Will Kanute, will be leaving at the end of June. We have now begun our formal search for his successor. If you are interested, or know someone who might be, please see this ad for more information.

Budgets – Please attend the annual Budget & Elections meeting on March 18, 2012, following the morning worship service. In advance of the meeting, you may review the proposed 2012-13 budgets for local operations and missions.

Photos – Check out the gallery of photos of the February 25th Chili Supper and Talent Show.

Slides – Church member Kari McCaw Blaise shared a presentation on "Celebrating our Legacy," a program for Black History Month that included discussion about several African Americans in our Congregational and UCC history. The slides for the presentation are included here.

Announcement – The World Day of Prayer service will be held at RHCC @ 7pm Friday March 2, 2012. This is an inspiring ecumenical service featuring Malaysia and a theme of "Let Justice Prevail." The churches of Rocky Hill and several from Wethersfield are participating this year. Please join us in worship at this prayerful expression of the global mission of our church.

Announcement – A special congregational meeting has been called for February 26, 2012 following the morning worship service for the purpose of voting on the proposed Heating System Renovation.

January 8 – Here is the Heating System Upgrade Presentation from the second hour session on Sunday morning, January 8.(pdf format)

December 17 – Music: - A Candlelight Service of Nine Lessons & Carols, recorded on December 4 and now available for your listening enjoyment. Listen online, or download to your MP3 player.

December 13 - The Diaconate has selected the Congregational Church (UCC) of Rupert, Vermont as the recipient of this year's annual Christmas Appeal. The church is needing assistance as a result of the recent hurricane and storm. "We feel blessed that God has seen fit to bring your congregation in touch with our own, through the tragedy of destruction caused by Hurricane Irene," wrote Susan Turnley, Co-Treasurer of the Congregational Church of Rupert. Contributions can be sent to Rocky Hill Congregational Church, Attn: Christmas Appeal, or donate online using the button at the top of this page. Several photos of the Congregational Church of Rupert are posted on our Facebook page

November 30 - December newsletter posted.

November 20 – Music: - RHCC orchestra, recorded during worship on Thanksgiving Sunday, November 20, 2011.

November 3 - November newsletter posted.

October 13 – Photos: Worship and Fellowship Photos, September 2011, taken by Jackie Little.