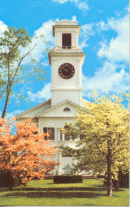 About Us
The Rocky Hill Congregational Church is almost three centuries old, but our faith, thinking and commitments are definitely 21st century. We welcome all those who seek to know God and serve the human family, and so we are a people diverse in religious background, social interests and commitments, and talents for service.
We are a congregation of the United Church of Christ, a mainline Protestant denomination formed in 1957 from four original traditions dating back to the first Puritan settlers. As a Protestant church in the Reformed tradition, our worship focuses on the Word (both the Biblical word and the words of the preacher) and on the two sacraments we celebrate, baptism and Holy Communion. Though we are bound to other churches of our denominations for mutual support and accountability, we are an autonomous local church, which means the people of RHCC make all decisions about our worship life, organization, and program. That way of organization is rooted in our faithful conviction that the Holy Spirit moves in each person's life, and that when we come together for discernment and decision-making, the outcome of a democratic vote most clearly reveals God's will for this church family.
We worship each Sunday in a service filled with music, prayer, time for children, opportunities to share joys and concerns, and exploring the Word together. Our congregation is committed to welcoming all, and ensuring our community is equipped to share the good news with others, and to act out its commitments to justice and peace through service to those in need: members, Rocky Hill residents, greater Hartford, and, through our support of United Church of Christ ministries and outreach and our own mission trips beyond Connecticut, brothers and sisters across the nation and around the world.
There is a saying in our tradition that sums up not only the unique identity of the United Church of Christ, but what makes the Rocky Hill Congregational Church such an open, diverse and committed church family: "In essentials, unity; in non-essentials, diversity; in all things, charity." We are committed followers of Jesus Christ, but know that discipleship takes many forms, and that we are each in different parts of a constantly unfolding journey. There are no "tests" of faith, but instead a covenant that together we will seek, listen to, and follow God as best we can. That makes for life together that is inspiring, fun, hard work, challenging, comforting, reassuring and always filled with anticipation about what God will say to us next.
In 2009, church members completed a two year program of study, discussion, and discernment on the meaning of becoming an Open and Affirming (ONA) church. This process culminated in an overwhelming majority vote to adopt an Open and Affirming Statement, thereby becoming the 48th UCC congregation in Connecticut to declare that status. The text of the adopted statement is as follows:
Because we believe that all people are created in God's image and thus are blessed and loved equally by God, and because love is a unifying and strengthening force within our Christian faith,

We, the members of the Rocky Hill Congregational Church, United Church of Christ, hereby declare ourselves an Open and Affirming Christian community, actively expressing Jesus' inclusive embrace of all people.

We welcome all who seek to follow Jesus, including persons of every age, gender, race, national origin, faith background, marital status and family structure, sexual orientation, gender identity and expression, mental and physical ability, economic and social status, and educational background, to share in the life, leadership, ministry, fellowship, worship, sacraments, responsibilities, blessings and joys of our church family.

Jesus teaches us to welcome all God's children into God's covenantal community. As we grow together in faith and love, we will strive to celebrate the diversity in which God has created us.
---
Ministry Team
Ministers: All the members of the church
The Reverend Craig L. Cowing, Pastor - ccowing@rhccucc.org
Georgette L. Huie, Minister fir Children and Youth - ghuie@rhccucc.org
Mary DeLibero, Minister of Music - mary@rhccucc.org
Theresa Cleary, Office Manager - office@rhccucc.org
Deb Copes, Financial Secretary - finsec@rhccucc.org
Dave Hall, Webmaster - webmaster@rhccucc.org

Map of 805 Old Main St
Rocky Hill, CT 06067-1553