---
Welcome!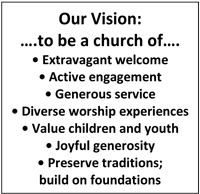 If you are new to this site or this church, we invite you to read about us on our "Welcome" page.
---
This space will be used to announce upcoming events, additions to the web site, and items of general interest to church members and friends. If you would like to add an announcement on this page, please send an email to webmaster@rhccucc.org.
Youth Groups: Calendars of upcoming activities for the two youth groups are now posted for the Jan-Apr 2018:
Worship links: In addition to weekly bulletins, we are now publishing audio recordings of the scripture and sermon from selected worship services. All links will be posted on the Worship page.
New Constitution: To request a digital (pdf) copy of the new Constitution (anticipated for adoption as of May 1, 2018) and the related FAQ document, please send an email to constitution@rhccucc.org.
Recent Music and Photos:
---
Weekly calendar