---
---


---
Welcome!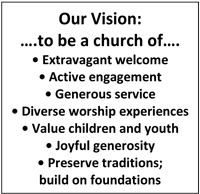 If you are new to this site or this church, we invite you to read about us on our "Welcome" page.
---
This space will be used to announce upcoming events, additions to the web site, and items of general interest to church members and friends. If you would like to add an announcement on this page, please send an email to webmaster@rhccucc.org.
Worship links: In addition to weekly bulletins, we are now publishing audio recordings of the scripture and sermon from selected worship services. All links will be posted on the Worship page.
---

On Sunday, September 13, 2015, the community at Rocky Hill Congregational Church, United Church of Christ welcomed Rev. Craig L. Cowing (center) as the church's new Pastor, and Georgette Huie (right) as the new Minister for Children and Youth. Also pictured is Craig's wife Anita Hawkins (left). Craig and Anita were welcomed as new church members during the morning's worship service.
---
Weekly calendar