2014 Lenten Brochure

Come find your place! Join us in worship, learning, and community, as we walk in the wilderness and prepare to celebrate the good news of Christ's resurrection. Please join us as we prepare to rejoice this Easter. Download the 2014 Lenten brochure for details on upcoming activities and spiritual opportunities.


Welcome!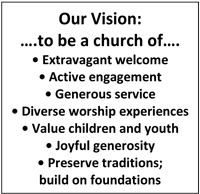 If you are new to this site or this church, we invite you to read about us on our "Welcome" page.
---
This space will be used to announce upcoming events, additions to the web site, and items of general interest to church members and friends. If you would like to add an announcement on this page, please send an email to webmaster@rhccucc.org.
Link: Musical Selections from Maundy Thursday Worship Service, April 17, 2014
Link: Proposed budget for fiscal 2014-15
Link: Dixieland music from the March 2, 2014 morning worship service
Link: Photo gallery of the Comfort Dinner, January 25, 2014
Link: Photo gallery of the Epiphany Pageant, January 5, 2014
---
Weekly calendar